---
MIDI Links
---
The following is a list of some of the places that I like to visit on a regular basis. There are so many good sites on the Internet that it is hard to list them all, but I will add more later.
If you enjoyed the music on this site and would like to learn how to do it
---

If You're Looking for Quality MIDI Files, Please Be Sure to Visit

The Official Archive of Sequences Created by Gary Wachtel (
GaryW0001@AOL.com
)

Music My Way is a site owned by Barry Heard and his wife Jillianne Jones. They both are professional musicians who also sequence MIDI files and they are very, very good at what they do.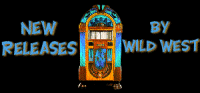 Dan West creates excellent quality original compositions. He is also the founder of the Yahoo group MidKar.

Jack's MIDI Music is a great place to visit. He has pages and pages of MIDI files of all kinds plus a lot of information.

Jukebox Saturday Night is a great place to visit. Bob has a large collection of MIDI files of all kinds.
---
MIDI Files - A to H

MIDI Files - I to R

MIDI Files - S to Z

MIDI Files - Marches and Ragtime

MIDI Files - TV And Movie Themes

MIDI Files - Christmas

MP3 Files created in Guitar Pro

Back To Home Page
---